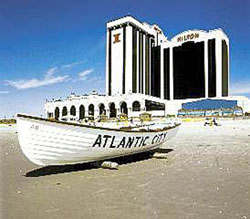 Location
The Atlantic Club Casino Hotel is located at Boston Ave. and the Boardwalk. This location provides easy access to Atlantic City's famous boardwalk, and outstanding views of the beach and the Atlantic Ocean.
The Hilton opened in 1980, but at that time was named the Golden Nugget. Now it is the Atlantic Club Casino Hotel.
The Atlantic Club has 800 deluxe hotel rooms, many of which overlook the Atlantic Ocean and scenic beaches.
Whats New
New name - Atlantic Club Casino Hotel
The Atlantic City Hilton, which for the last few months has been called ACH, is now named the Atlantic Club Casino Hotel. They intend to target more local gamblers around South Jersey. They will feature lower priced games like penny slots, and table games with $5 and $10 dollar minimum bets.
When viewing the rest of this website, keep in mind the new name.
Note: The Atlantic Club Casino closed as of January 2014.
Atlantic Club Gaming Table
Gaming
The Atlantic Club has 60,000 sq. ft. of gaming space on the casino floor. Games include all your favorite table games, such as Blackjack, Craps, Roulette, Baccarat, and Poker.
They have 1800 slot machines.
The casino has "Double Deck Pitch Blackjack," played with just two decks instead of the usual eight. Card counters, hurry over!
They have an Asian Room that features Macau style Mini-Baccarat, Dragon Bonus Mini Baccarat, Traditional Mini Baccarat, Pai Gow Poker, Pai Gow Tiles, Blackjack and Sic Bo.
Patsy's Italian Restaurant
Restaurants
Fine Dining at the Atlantic Club includes:
Simon Prime Steakhouse
Patsy's - Italian
Ono Pan Asian Bistro & Bar
They also have BB's Burger & Beer, Cappuccino's, Beer and Burger, The Coffee Shop and The Cornucopia Buffet.
Simon Prime is contemporary and comfortable steakhouse whose menu also includes many fresh seafood items.
Patsy's is is a branch of the New York Italian restaurant of the same name that was a favorite of Frank Sinatra.
Ono offers traditional items combined with Pacific Rim Cuisine.
Dizzy Dolphin
Girls Night Out - The Musical
Nightlife and Entertainment
The main spot for nighttime enjoyment is The Dizzy Dolphin. Also try the bars at Ono and Simon Prime.
The Dizzy Dolphin is a nautical themed lounge that features live entertainment.
The Atlantic Clubs Theater provides an active entertainment calendar featuring celebrity entertainers, such as:
Patti La Belle, Jerry Seinfeld, Barry Manilow, and many others.
The Atlantic Club's
Indoor Pool
Amenities
The Atlantic Club has an elaborate 13,000 sq. ft. Health Spa that includes an indoor pool, and workout facilities with exercise machines and weight training equipment.
It also has men's and women's saunas, hot tubs and steam rooms.
The Spa's tropical garden setting, marble floors, and hand-painted murals give the Spa an atmosphere of elegance.
Accommodations
The Atlantic Club has 800 deluxe hotel rooms,
many of which overlook the Atlantic Ocean and scenic beaches.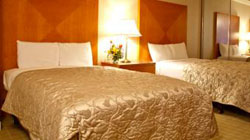 Two Bedroom Suite
One Bedroom Suite
Executive Suite
Deluxe Room
Things To Do
There are many interesting things to do in Atlantic City outside of the casinos. To find out about some of them follow these links:
Parking
The Atlantic Club has a large multi-level parking garage.
---
Casino Map - You can find the Atlantic Club using this map.
It is where the Hilton is on the map - click image to enlarge.
More photos of the Atlantic Club are shown below.
Atlantic Club.
Atlantic Club.