The Atlantic City, NJ Beach
---
Atlantic City Beach and Steel Pier
Steel Pier is in the background
---
Beach Umbrellas
---
Joggers on the Beach
---
Volley Ball on the Beach
---
Catching the Sun on the Beach
---
Relaxing on the Beach
---
---
Beach in Front of Casinos
Trump Taj Mahal, Showboat and Revel Casinos Can be Seen
---
Beach Patrol
Atlantic City has one of the best trained life-saving crews in the world. Every year an around the island (Absecon Island) swim is held, and the top place finishers are always members of the life saving crew.
---
Beach Bars
Three of the Atlantic City Casinos have beach bars, right on the beach in the warmer months; those being Bally's, The Atlantic Club, and the Trump Plaza. The photograph above and the one below are from Bally's Beach Bar. Follow this link to see: Beach Bars
---
Bally's Beach Bar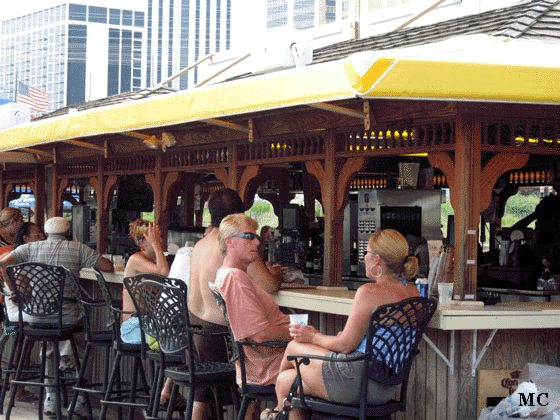 ---
Atlantic City Beach Concerts
Beach Concerts are often held on the Atlantic City beach using a temporary stage. Follow this link to see: Beach Concerts
---
Calm Ocean Surf
On most days the Atlantic City Surf is calm and gentle.
---
Rougher Ocean Surf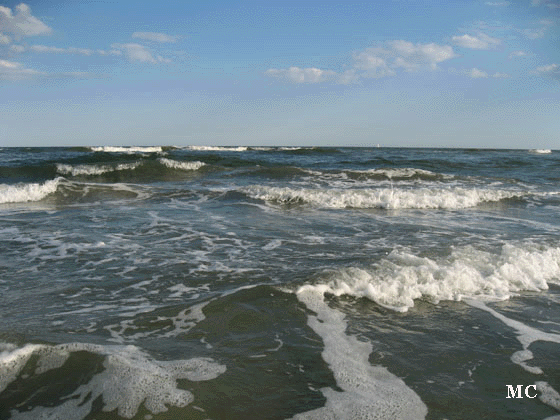 On some days the surf has rolling waves, which are great for body surfing, or riding the waves using a styrofoam or inflatable float.
---
Enjoying the Ocean Surf
---
The Beach by the Old Garden Pier
---
Jetty Scene
Both bathers and fishermen are enjoying the surf.
---
To see scenes from the Atlantic City beach in those nostalgic bygone days follow this link: Early Beach Scenes.
---
Beach Gear
If you go to the beach you will enjoy it more if you have the right gear.
Follow this link to see a nice selection of Beach Gear.
---
---