Dock's Oyster House
Dock's Oyster House
Dock's Oyster House opened in 1897. It has been remodeled and expanded over the years but has always been a favorite of both locals and visitors. It is known for it's soft-shell crabs, lobster, daily fresh fish selections and seafood platters.
The restaurant has a dark-wood interior and an oyster bar. In 2005, 43,243 oysters were shucked there.
Address: 2405 Atlantic Ave.
Phone: 609-345-0092
Knife and Fork
Knife and Fork
The Knife and Fork features the finest steaks and seafood prepared on a wood-fired grill. It also boasts a 10,000 bottle wine cellar.
The restaurant has a Flemish architecture with a mahogany bar and intimate-dining area.
Address: Atlantic and Pacific Aves.
Phone: 609-344-1133
Tun Tavern
Tun Tavern
Thr Tun Tavern is both a restaurant and brewery.
The chef at the Tun Tavern is Rocky Pallerito, who previously ran Polistina's Italian Restaurant at Harrah's. Besides Italian, Rocky also excels at Asian and American cooking.
The tavern brews it's own handcrafted
beers and ales.
The Tun Tavern is located at 2 Miss America Way, right next to the Sheraton Hotel and directly across from the Atlantic City Convention Center.
Phone: 609-347-2536
Chelsea Prime
Dining on the Fifth Floor
The new Chelsea Hotel is home to Dining on the Fifth Foor, which is the focal point of the hotels social scene. Dining on The Fifth Floor offers an international menu, in a gorgeous room setting evocative of a 1940s supper club.
Chef Jaime Quintana follows a philosophy of showcasing incredible ingredients with elegant simplicity.
The Chelsea also offers sweeping ocean views to enjoy with your meal.
Dining on The Fifth Floor is in the new Chelsea Hotel located at Pacific and Chelsea Avenues, Atlantic City NJ. Phone: 609-428-4545
Los Amigos
Los Amigos Mexican Restaurant
The Los Amigos won an award for "Best Mexican Restaurant" and "Best Margarita" from "Atlantic City Magazine."
The Los Amigos has an extensive menu along with a casual atmosphere.
Address: 1926 Atlantic Ave.
Phone: 609-344-2293
White House Sub Shop
White House Sub Shop Atlantic City
One of the best Sub Shops in the country is in Atlantic City.
It is often crowded because everyone wants one of their subs.
Address: 2301 Arctic Ave., Atlantic City.
Phone: 609-345-1564
To find out more about the White House Sub Shop, follow this link:
White House Sub Shop
Angelo's Fairmount Tavern
Angelo's Fairmount Tavern
Angelo's Fairmount Tavern, operated by the Mancuso family, has been serving Atlantic City locals and visitors since 1935.
Angelo's features Italian-American cuisine including steaks, chops and seafood. Among their many delicious menu items are Portabella Mushrooms with Jumbo Lump Crabmeat and Mussels Marinara. Other favorites are Chicken Marsala and Veal Parmesan.
Address: 2300 Fairmount Ave.,
Atlantic City, NJ.
Phone: 609-344-2439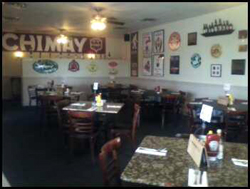 Vagabond Kitchen & Tap House
Vagabond Kitchen & Tap House
Vagabond is a new Atlantic City restaurant opened by the owner of the Back Bay Ale house in Gardner's Basin. Vagabond offers a local place to get pub style food with funky beers on tap, in a cool atmosphere with stunning bay views.
Vagabond Kitchen is Located in
the Chelsea Heights section of Atlantic City at 672 N. Trenton Avenue. Phone: 609-350-6721.
More Restaurants in Atlantic City
The Irish Pub - 164 St. James Place
Little Saigon -Vietnamese - 2801 Artic Ave.
Malaka - Chinese and Indian - 28 S. Tennessee
O'Grady's - 3901 Atlantic Ave.
Yama Japanese Restaurant - 5305 Atlantic Ave.
Angeloni's 11 - 2400 Arctic Ave.
Chef Vola's - 111 South Albion Place
Girasole - Italian - 3108 Pacific Ave.
Flying Cloud - Seafood - 800 N. New Hampshire Ave. at Gardeners Basin
Ruth's Chris Steakhouse - 2020 Atlantic Ave.
Morton's Steakhouse - 2100 Pacific Ave.
Restaurants at the Tropicana Quarter
The Palm - Steak & Seafood
Red Square - Russian
Cuba Libre- Cuban
A Dam good Sports Bar
Ri Ra Irish Pub
P.F. Changs - Asian
Carmine's
II Verdi
Golden Dynasty
Seaside Cafe
Corky's Ribs & BBQ
Hooters
Starbuck
Wellington,s Steak and Seafood
Restaurants at The Walk in Atlantic City
Applebees Neighborhood Bar
Auntie Anne's
Cavo Crepe Cafe
Longhorn Steakhouse
Ruby Tuesdays
Ruth's Chris Steakhouse
Starbucks
Subway
The Melting Pot
Atlantic City Restaurant Week
In 2015 the annual Atlantic City Restaurant Week, will run from Mar 1 to March 8. This event offers diners an opportunity to explore some of Atlantic City's newest, as well as best known restaurants - and to sample a variety of the exceptional dishes prepared by Atlantic City's chefs at incredibly reasonable rates.
Hell's Kitchen
The 5th season (2009) of the Fox Networks TV show, Hell's Kitchen, was filmed at the Borgata.
---
---