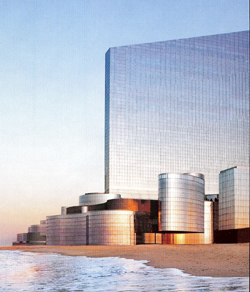 Revel

Location
Revel is Atlantic City's new luxury $2.4 billion beachfront Casino|Hotel.
It is located at Revel Beach, at the foot of New Jersey Avenue right on the Boardwalk. This location provides easy access to Atlantic City's famous boardwalk, and outstanding views, and access, to the beach and Atlantic Ocean.
The 47 story Revel provides 1898 luxury rooms and suites with ocean and bay views. It has a state of the art casino, two entertainment and performance venues, fourteen restaurants, two nightclubs, a dayclub, 10 pools, a huge spa and
numerous retail shops.
Whats New
The Revel Casino is in bankruptcy for the second time, and will be closed unless a buyer is found by Aug. 18, 2014.
Whats Novel - A Skygarden
Revel Beach has a Skygarden, which is an outdoor landscape 114 feet above the sea with sweeping views of the Atlantic Ocean by day and the stars at night.
INOUT Pool
Revel's Indoor Outdoor Pool extends into the Skygarden.
Gaming
Revel's casino has 130,000 sq. ft. of gaming space, and 2,500 slot machines. It has 97 gaming tables and 16 electronic table games.
The casino's lighting evolves throughout the day, utilizing variable colors. At night it will seem like a nightclub.
Revel Ultra Lounge
Revel has a special place, The Ultra Lounge, for high end table players.
It also has a new Pearl Lounge for high end slot players.
Restaurants
Revel has numerous nifty new restaurants, these include:
Signature Restaurants include:
Amada - Authentic Spanish Tapas
Azure - Coastal Cuisine, Riviera Style
American Cut - Classic Steakhouse
More Restaurant Choices:
Mussel Bar & Grille - Mussels and Frites with Belgian Beers
Lugo Cucina E Vino - Italian Classics
The Alcove - Breakfast and Lunch
Village Whisky - Signature Burgers and More
Luke's Kitchen and Marketplace
Yuboka - Casual Noodle Bar
Relish - 24 Hour Dining
Distrito Cantina
Taco Truck
SkyCafe
Iron Chef Jose Garces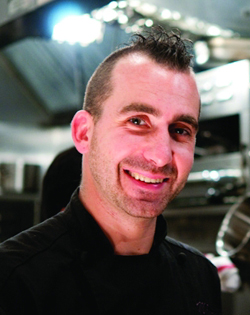 Iron Chef Marc Forgione
Chef Robert Wiedmaier
Revel Chefs
Celebrity Iron Chef Jose Garces opened two new restaurants at the Revel. These being "Amada,"an Andalusian tapas bar and "The Village Whisky," sepcializing in burgers. These are all variations of prominent restaurants that Garces runs in Phladelphia.
Iron Chef Marc Forgione opened an American Cut Steak House at Revel. Forgione will be the fifth Iron Chef in Atlantic City. Besides Jose Garces who is also at Revel, there are Wolfgang Puck, Geoffrey Zakarian and Bobby Flay at the Borgata Hotel Casino & Spa.
Continental cuisine got a boost when the award-winning chef and master of Belgian cuisine, Robert Wiedmaier, opened the first extension of his popular gastro-pub, Mussel Bar, outside of the Washington Metro Area at Revel. Paying homage to Wiedmaiers roots, the inspiration for Mussel Bar draws from an old-world Belgian roadhouse serving Bire, Moules & wiedmaierFrites, and other Flemish favorites.
Chef Chiaruga opened an Italian Cafe named Lugo Caffe at Revel. There is already a Lug Caffe in New York City, that draws a sports crowd near Madison Square Garden. Chef Chiaruga will offer a wide choice of traditional Italian American comfort food.
Chef Alain Allegretti, from New York, opened Azure, an upscale Italian restaurant. Azure will fuse Italian and French Riviera cuisine.
Nightlife
Royal Jelly Burlesque
Nightlife hotspots at Revel include:
HQ 4 Story Nightclub
The Social
Royal Jelly Burlesque Nightclub
Ultra Lounge
The O2 Bistro
The Social is a casual bar and indoor ampitheater, including a dance floor and stage. The Social is located right in the center of the casino floor.
The Royal Jelly Burlesque Nightclub was created just for Revel by Ivan Kane. It takes cues from Kanes renowned Forty Deuce nightclubs in Hollywood and Las Vegas. It is set to scintillate audiences nightly with highly choreographed burlesque performances from more than a dozen dancers while a live band provides the soundtrack.
There is also a day 45,000 square-foot HQ Beach Club.
Entertainment
Some of the hottest and most popular entertainers perform at Revel's 5050 seat Ovation Hall, including Beyonce'.
There is also a smaller, more intimate 700 seat second theater.
Ovation Hall Layout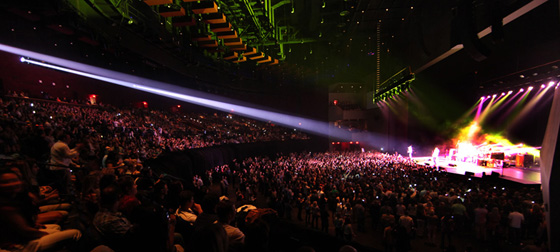 Concert at Ovation Hall
Amenities
Revel has a two acre sky garden overlooking the beach and ocean. The sky garden has fire pits, cabanas, pools and bars. There is an indoor-outdoor pool with a waterfall.
The Bask spa nurtures an integrated approach to wellbeing, blending spa, fitness, healing, relaxation. It includes a Salt Grotto that is an enclosed room built out of Pink Himalayan salt blocks. The salt has qualities that that have been proven to treat respiratory issues.
Bask spa
There is a men's and women's sanctuary and a coed bath house.
The spa integrates fitness with healing and relaxation.
Meetings and Events
The Think Tank is Revels 160,000 square feet of flexible indoor and outdoor meeting space. It includes 90,000 square feet of outdoor event and function space, a 70,000 square-foot Event Center with ballroom/banquet seating up to 1,800, and conference-room seating ranging from 300 to 609 seats.
Accommodations
Revels 1898 rooms include flat-screen TVs, mini-bars, and a 7 inch Android tablet to control temperatures, window shades and room lighting. The tablet is also an internet browser. All rooms have either an ocean or bay view.
The Ocean Room has floor-to-ceiling windows and an ocean view.
---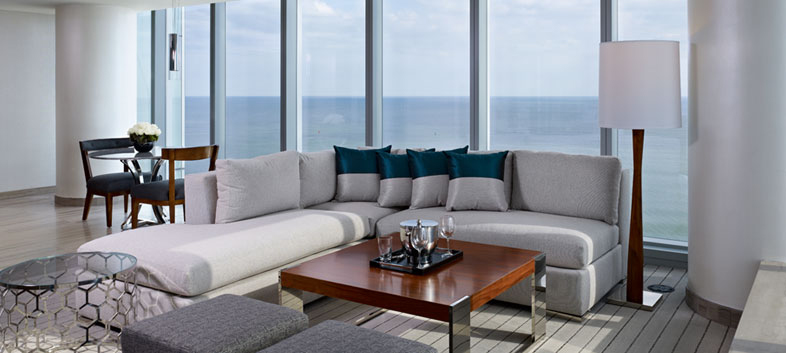 The View Suite has sweeping Atlantic views through floor-to ceiling windows.
---
The Ocean Suite is a corner suite with views on two sides providing both ocean and city views.
Shopping
Revel provides 55,000 square feet of shopping space at the "Row."
Things To Do
There are many interesting things to do in Atlantic City outside of the casinos. To find out about some of them follow these links:
Phone and Website
Phone: xxxx
Website: xxxx
Parking
There is lots of parking at Revel.
Casino Map
You can find Revel using the map below. Click image to enlarge.
More Revel Photos
Most of these photos are from Revel's construction and formative phases.
Casino Concept
---
Revel Casino 2012
---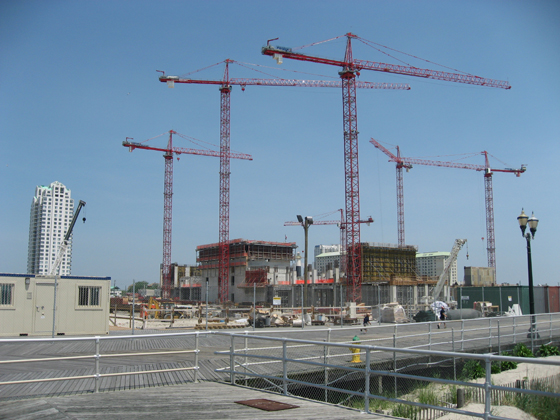 Construction Early On
---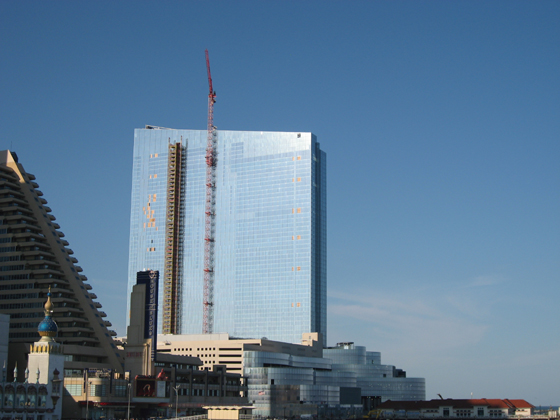 Construction 2009
---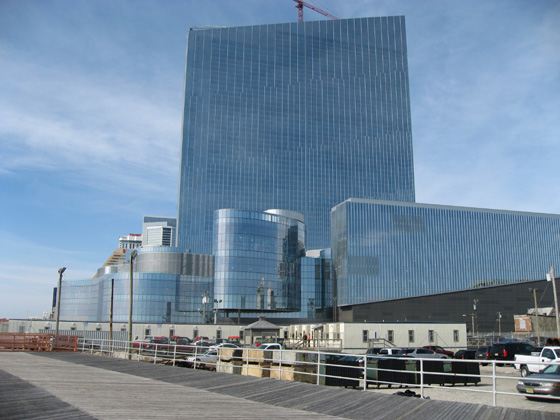 Construction 2011
---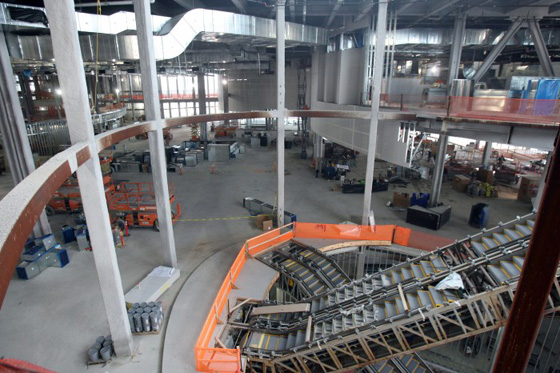 Construction 2011
---
Construction 2011
---
Revel 2011
---
Revel 2011
---
Revel Boardwalk Entrance
---
Revel as seen from the Boardwalk
---
Revel is right next to the Showboat
---
Garden Pier. You can see the section of the Pier that was damaged by the hurricane of 1944.
---
Garden Pier - The damaged section has been removed.
The Revel casino is directly opposite Garden Pier, on the other side of the boardwalk.