Ticket to Ride Europe
Get ready for a new train adventure as you travel across Europe with Ticket to Ride - Europe, the new edition of the worldwide hit from Days of Wonder. From Edinburgh to Constantinople and from Lisbon to Moscow, the game will take you on a ride to the great cities of turn-of-the-century Europe. More than just a new map, Ticket to Ride - Europe features brand new gameplay elements including Tunnels, Ferries and Train Stations. Plus, we've upgraded you to First-Class accommodations with larger cards, new Train Station game pieces, and a lavishly illustrated gameboard. Like the original, the game remains elegantly simple, can be learned in three minutes, and appeals to both families and experienced gamers. Ticket to Ride - Europe new game and does not require the original version. It is for 2 to 5 players, and it takes 30-60 minutes to play.
Link to: amazon.com
Twilight Struggle
In 1945, unlikely allies toppled Hitler's war machine, while humanity's most devastating weapons forced the Japanese Empire to its knees in a storm of fire. Where once there stood many great powers, there then stood only two. The world had scant months to sigh its collective relief before a new conflict threatened. Unlike the titanic struggles of the preceding decades, this conflict would be waged not primarily by soldiers and tanks, but by spies and politicians, scientists and intellectuals, artists and traitors. Twilight Struggle is a two-player game simulating the forty-fiveyear dance of intrigue, prestige, and occasional flares of warfare between the Soviet Union and the United States.
Link to: amazon.com
Puerto Rico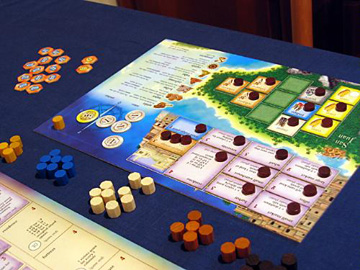 Prospector, captain, mayor, trader, settler, craftsman, or builder? Which roles will you play in the new world? Will you own the most prosperous plantations? Will you build the most valuable buildings? You have but one goal: achieve the greatest prosperity.
Winner of an International Gamers Award in the General Strategy category for 2003. Chosen Best Strategy game in Germany, Switzerland, Austria, Netherlands and USA Winner of the Golden Feather for the best game rules.
Link to: amazon.com
Trailer Park Wars
You have finally landed the job of your dreams, Trailer Park Manager. To be the best darn trailer park manager in town you must place quality tenants in your trailers, create a fun and friendly atmosphere by adding some sweet amenities, and go about destroying the other trailer parks in town, no matter what it takes.
Link to: amazon.com
Redneck Life Board Game
Step into the world of redneck life with The Game of Redneck Life" where a roll of 2 dice determines the grade you complete in school, which sets you up for one of 11 fabulous careers, such as Mullet Salon Operator or Monster Truck Announcer! Journey through Blue Collar Americana using credit to buy vehicles, get married, purchase a home, get divorced, remarried, and raise a passel of young 'uns. Through accidents and brawls, players lose teeth during the game. Buy some back if you can, as the player with the most teeth at the end of the game wins!
Link to: amazon.com
---