Link to: Larger Image
Atlantic City Solar Power
The Atlantic City Convention Center now has the largest rooftop solar panel array in the United States.
The 13,321 solar panels can generate up to 2.4 megawatts of power, on good sun days.
Link to: Larger Image
Atlantic City Wind Farm
Right off of Route 30, and not far from The Borgata, there is a wind farm that contains five 380 foot tall windmills.
The windmills turn GE turbines, each capable of generating 1.5 megawatts of power. The windmills supply power for the Atlantic County Utilities Authority.
Offshore Wind Turbine
- photo courtesy of GSOE

Offshore Wind Farm
In October 2009, the NJ Board of Public Utilities selected Garden State Wind Offshore Energy, a joint venture between the Public Services Enterprise Group and Deepwater Winds of Hoboken, NJ to build 96 wind turbines off the Coast of Atlantic City and Avalon.
The $1 Billion dollar project will generate about 350 megawatts of power, enough to supply the electrical needs of tens of thousands of homes and to meet about5% of NJ's needs.
The wind turbines will be located between 16 and 20 miles offshore, where the winds are expected to be high and beyond where they would interfere with the view from the beach. See illustration below.
What wind turbines would look like at varying distances from the shore. (Illustration: P.S.E.G.)
---
Fisherman's Energy Wind Farm
In April of 2011, New Jersey issued several environmental permits required to construct a test wind farm off of Atlantic City. The test wind farm would be constructed by Fisherman's Energy, a company founded by New Jersey commercial fishermen.
The test wind farm will consist of six wind turbines that would generate up to 25 megawatts, enough to power about 10,000 homes. The wind turbines would be located about 12.8 miles out at sea, directly off of Steel Pier.
Larger photos are shown below.
Atlantic City Convention Center Roof Solar Array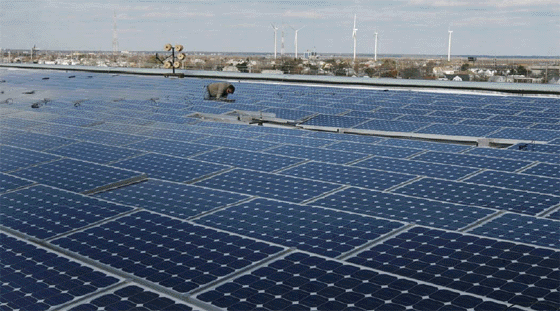 Photo Credit: Photo courtesy of the Atlantic City Convention & Visitor Bureau. You can also see the nearby ACUA wind farm in the background.
ACUA Wind Farm
U.S. route 30 goes right past the entrance to this wind farm.
---
Atlantic City Windmills in action.
---