Twisted Dunes
Golf Club
Twisted Dunes
practice Range
Twisted Dunes
True to its name, Twisted Dunes is a links style course with twisting landscapes, dramatic elevations, and contoured fairways. It is a challenging, yet supremely playable, eighteen-hole design.
Designer Archie Struthers moved two million cubic yards of earth to bring this course to fruition; creating a true taste
of the Scottish Coast, right here at the
Jersey Shore.
Deep ravines, towering grass-covered hills, and well over 100 deep traps and bunkers, make Twisted Dune's 7,200 yards a memorable golfing experience for all. Twisted Dune Golf Club is the type of course that serious golfers love to play again and again! Yet, with it's many tee box options, Twisted Dune is also very friendly to golfers of every skill level.
The Twisted Dunes Golf Academy has convenient facilities, outstanding golf instructors, and state of the art of video equipment.
The course has been selected by The Press of Atlantic City, Casino Connection Magazine, and numerous other publications as the best 18-hole course at the Jersey Shore.
Golf fees vary from $49 to $105 depending on time and season. Call the pro shop for specific rates and reservations.
Phone: 609-653-8019
Website: www.twisteddune.com
Par for the course is 72, with yardages as shown on the scorecard below.
Twisted Dunes Golf Club Score Card
---
Location
Google Map - Twisted Dunes Golf Club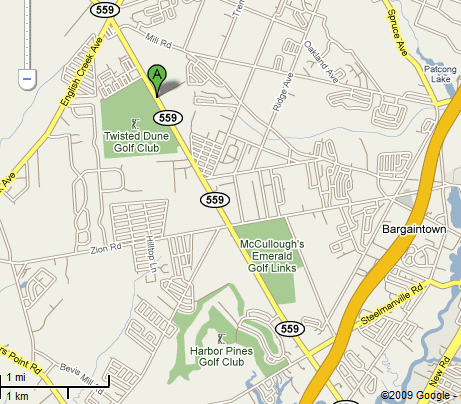 The Twisted Dunes Golf Club is located at 2110 Ocean Heights Avenue
(route 559), Egg Harbor Township, NJ.
---
More and larger photos of The Twisted Dunes Golf Club are shown below.
Twisted Dunes Golf Club Hole 1
---
Twisted Dunes Golf Club Hole 13
---
Twisted Dunes Golf Club Hole 16
---
Twisted Dunes Golf Club Hole 7
---
Twisted Dunes Golf Club Hole 2
---
---