11th Hole
Scottish Link Golf
15th Hole
Over Water
The Links at Brgantine
Built in 1927 as part of the island's master plan, The Links at Brigantine Beach is unique in the Northeast with its Scottish links design by Wayne Stiles and John Van Kleek.
The course layout offers breathtaking bay views, native marshes and gently rolling, nearly treeless terrain. The berms, moundings and tidal water hazards found on 14 of the 18 holes offer a challenge to all skill levels. The greens roll smoothly and are noted as the finest in Southern New Jersey... a bump-and-run strategy is often the best for producing low scores.
The course provides an exciting, scenic and ever-changing experience for golfers of all skill levels.
The Professional Shop carries only the finest in golf merchandise and equipment. The Links Grille offers a combination of delicious food, casual ambience, scenic views, and attentive service. In addition, the dining room has seating for over one hundred guests.
Golf fees vary from $35 to $85 depending on time and season. Call the pro shop for specific rates and reservations:
Phone: 609-266-1388
Website: www.brigantinegolf.com
Par for the course is 72, with yardages as shown on the scorecard below.
Score Card
---
Location
The Links at Brigantine Beach is located at 1075 North Shore Drive, in Brigantine, NJ. See map below.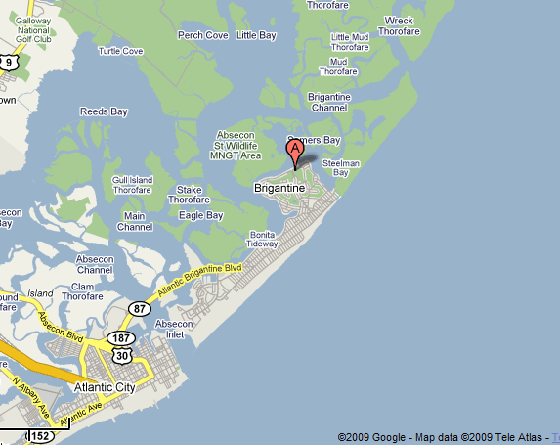 Google Map - Links at Brigantine Beach