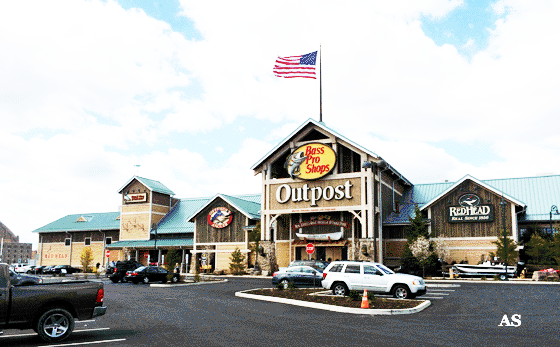 A new Bass Pro Shop store opened in Atlantic City on April 15th, 2015.
The new Bass Pro Shops 85,000 square-foot super store is located on the block between Mississippi and Missouri avenues and from Atlantic and Artic avenues, just behind the Trump Plaza casino.
"Bass Pro Shops is one of the great retailers in the world and is expected to be a game changer for Atlantic City, as Bass Pro Shop Stores are also tourist attractions.
Bass Pro Shops' unique, award-winning, mega-sized outdoor stores are known for combining retail with entertainment, conservation and outdoor education.
Bass Pro Shops' unique exterior and interior motifs have branded them as visually appealing, high quality outdoor stores. The outdoors feel is brought indoors through massive log and rock work, large indoor aquariums and water features stocked with native fish species as well as an extensive collection of museum quality fish and wildlife mounts. Historic photos and exhibits pay tribute to the regions great outdoor heritage.
The store includes an expansive boat showroom that features Tracker, Nitro, SunTracker, Tahoe, Grizzly and Mako boats built by Tracker Marine Group, the world's largest manufacturer of fishing boats.