White House Tuna Sub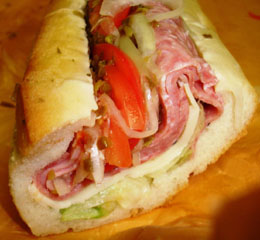 White House Sub
The White House Sub Shop is one of Atlantic City's favorites for those who know about it. The sub shop was established in 1964 by Anthony Basile, along with his aunt Basila and uncle Fritz Sacco. Since then they have sold over 23 million subs. Subs get their name from their submarine shape, but they are known as Hoagies in some parts of the country.
Its not unusual for patrons to drive hours to get a White House Sub. The walls of this shop are covered with photos of famous people that have come there for subs. These include the Beatles, Frank Sinatra, Joe DMaggio, Marilyn Monroe and Bill Cosby. It is said that Frank Sinatra had them delivered to him while he was on tour. Bill Cosby used to have these subs flown to him in California.
The subs are made using the best meats and cheese, and the freshest tomatoes, lettuce and onions. The rolls are fresh from the Formica Bros. Italian bakery right down the street.
To find out more about the Formica Bros. Bakery follow this Link:
Formica Bakery.
If you go to the White House Sub Shop, leave some time to wait, for there is often a line, as everyone seems to want a White House Sub.
Address: 2301 Arctic Ave., Atlantic City.
Phone: 609-345-1564