BUCA DI PEPPO
Harry's Oyster Bar
Bally's Restaurants
Bally's has numerous restaurants, including:
Guy Fieri's Chophouse
BUCA DI PEPPO - Family Style Italian
Noodle Village
Johhny Rockets'
Harry's Oyster Bar
Pickles - Casual Cafe
Others are: Quick Bites, Primo Pizza', Sack of Subs, Boardwalk Cupcakes and the Corner Cafe'.
Harry's Oyster Bar is also a Sports Bar.
Guy Fireri's also serves seafood.
Wolfgang Puck
American Grille
Izakaya
Borgata Restaurants
Fine dining at the at The Borgata includes:
Bobby Flay Steak - unique grilling
Wofgang Puck - American Grille
Izakaya - Modern Japanese Cuisine
Old Homestead Steak House
Fornelletto's - Traditional Italian
For more casual dining: The Metropolitan, Bread & Butter, Borgata Baking Company, N.O.W., 28 West, The Sunroom, The Cafeteria and The Borgata Buffet.
Soutwestern style steaks are provided by celebrity chef Bobby Flay. He also serves fresh seafood from the Lobster Bar.
Izakaya is a Japanese pub overseen by executive chef Michael Schulson. It features Japanese style seafood and even Kobe beef.
The Water Club features signature in room dining by Chef Geoffrey Zakarian.

To find out more about dining at the Borgata follow this Link:
Borgata Dining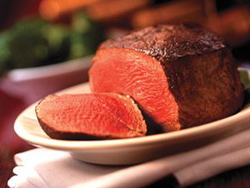 Morton's Filet
Buddakan
at The Pier Shops
Caesars Restaurants
Caesars has numerous fine restaurants, including:
Buddakan at the Pier
Morton's The Steakhouse
Nero's Chophouse & Sushi Bar
They also have the Cafe Roma, Kiwi Noodle House, Tazza and the Palace Court Buffet.
Mia features Italian- Mediterranean cuisine. One of their favorites is tuna tartare "Sicilian-style".
KWI features both traditional and modern Asian cuisine. It is located adjacent to the Palace East Asian gaming area.
Morton's Steakhouse features prime aged beef carefully prepared by chef John Macauley.
The Pier Shops at Caesars includes numerous additional restaurants inclding: Buddakan at the Pier, Continental at the Pier, Souzai Sushi & Saki and Phillips Seafood.
Chart House
Vic & Anthony's
Golden Nugget Restaurants
There are numerous fine restaurants at the Golden Nugget, including:
Chart House - Seafood
Vic and Anthony's Steakhouse
Michael Patric's Brasserie
Grotto Italian Ristorante
Lillie's Asian Cuisine
They also have Starbucks, The Buffet, Bean and Bread and The Deck Bayfront Bar and Restaurant.
The Chart House has breathtaking waterfront views and exquisite dining.
Vic & Anthony's is one of America's top 10 steakhouses.
Michael Patrick's is an ultra-chic European style brasserie.
The Grotto provides authentic Italian classics.
Steakhouse & Bluepoint
Waterfront Buffet
Harrah's Restaurants
Harrah's fine dining choices include:
McCormick & Schmick's - Seafood
Martorano's - Italian
The Steakhouse
They also have Dos Caminos, Bill's Bar and Burger , Sammy D's, and The Waterfront Buffet, The Taste of the Shore Food Court and the Tazza Cafe
The Steakhouse includes the Bluepoint, a raw bar featuring fresh clams and oysters on the half shell.
McCormick & Schmick's is Harrah's upscale seafood restaurant that features seafood selections from around the globe.
The Harrah's Waterfront Buffet was
voted #1 in 2008, by Casino Player magazine.
Cappriccio
Resorts Restaurants
Gourmet Dining at Resorts includes:
Gallagher's Steak House
Capriccio - Italian
Margaritaville
They also have Gallagher's Burger Bar, Breadsticks Cafe & Grill, The Eastwinds Chinese Restaurant, Cielo and the Quick Bites fdood court.
Gallagher's famous New York steakhouse is now also in Atlantic City, at Resorts. They feature dry-aged beef and classic seafood.
Capriccio offers gourmet Italian food and a view of the ocean.
Margaritaville is Resorts new Jimmy Buffetts's themed restaurant. There is also a Jimmy Buffet Landshark Bar & Grill.
A new Quick Bites Food Court includes: Dunkin Donuts Express, The Original Soupman, Ruby's Diner, Famous Famiglia Pizzeria and Hagan Daz Ice Cream.
Dining at Carmine's
Dining at The Palm
Tropicana Restaurants
The Tropicana has more than 20 restaurants which include those in the Quarter. Fine dining choices include:
Carmine's - Italian
Il Verdi - Northern Italian
Golden Dynasty - Far Eastern
Cuba Libre - Authentic Cuban cuisine
The Palm - Prime Steaks and Lobster
PF Chang's China Bistro
Fin - Seafood
More casual dining choices are: Ri'Ra' Irish Pub, the Seaside Cafe, Chickie's and Pete's, Tony Luke's and the Fiesta Buffet. There is also Hooters, the Broadway Burger Bar, Perry's Pizza, Casa Taco & Tequela Bar and A Dam Good Sports Bar.
Cuba Libre features Latin music and both classic and contemporary Cuban cuisine.
Carmine's was awarded best Italian restaurant by Casino Player Magazine in 2008.
Carmine's has a famous sister restaurant in New York City. Carmine's just came out with a recipe book revealing the restaurant's secret Italian recipes. To see about Carmine's cookbook follow this Link: Carmine's Cookbook.
The Palm is a Classic American Steak House which is famous for aged USDA prime beef and jumbo Nova Scotia lobsters.
The Fin features fresh seafood and locally produced foods and wines.
A Dam Good Sports Bar is an "American-style" restaurant with two giant 110" projection and 13 plasma screen televisions, all in High Definition.
To visit The Quarter follow this Link: The Quarter
---